skateboarding
Aug 6 2013
Among the most influential skateboarders the industry has ever seen, Bob Burnquist is still innovating. In his new webisode series, Burnquist grants his fans exclusive access to his backyard in Southern California, better known as "Dreamland." Hence, "The Dreamland Series." Watching this seems like playing one of the Tony Hawk games. Enjoy!
---
Nov 20 2012
Awesome skateboarding skills, filmed with style at a unique location. The skateboarder in this video is Kilian Martin and the movie is titled "Altered Route".
---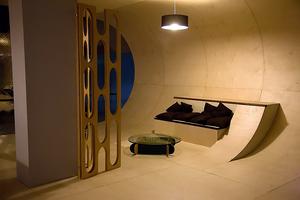 Jul 12 2011
This home is actually 753 square foot skatepark. Everything inside of it is fully skate-able (tables, couches etc).
---