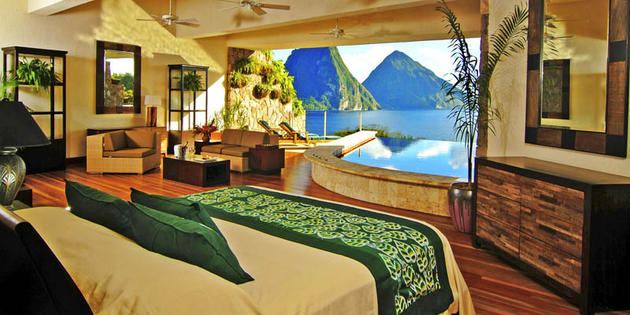 May 16 2011
One of the most romantic getaways in the Caribbean for sure. Check out this beautiful resort on the beach of St Lucia.
Rising majestically above the 600 acre beach front resort of Anse Chastanet, Jade Mountain is a cornucopia of organic architecture celebrating St Lucia's scenic beauty. The cost for staying here is between $1,050 - $2,680 a night.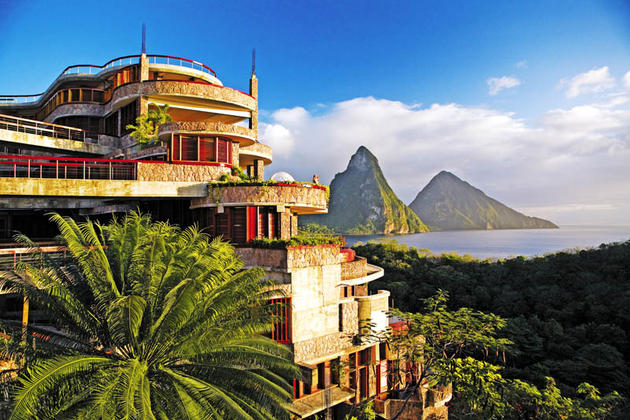 Architect owner Nick Troubetzkoy has expanded upon his philosophy of building in harmony with Caribbean nature in his creation of Jade Mountain. The bold architectural design – individual bridges leading to exceptional infinity pool sanctuaries and rugged stoned-faced columns reaching towards the sky – makes Jade Mountain one of the Caribbean's most mesmerizing resort experiences.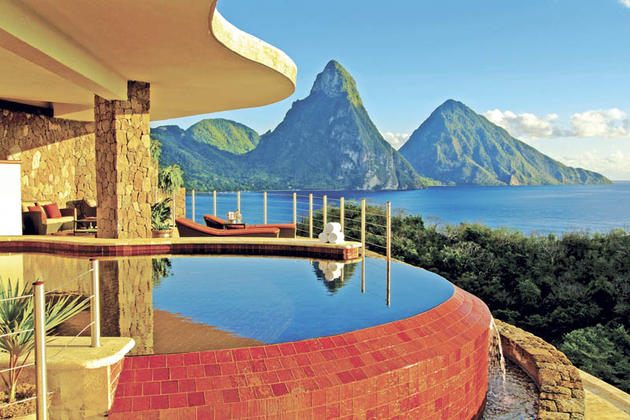 Expect grand sweeping spaces where bedroom, living area and an extravagant private infinity pool glide into one another to form extraordinary platforms floating out into nature. With the fourth wall entirely absent, Jade Mountain's sanctuaries are stage-like settings from which to embrace the full glory of St Lucia's Pitons World Heritage Site, and of course, the eternal Caribbean Sea.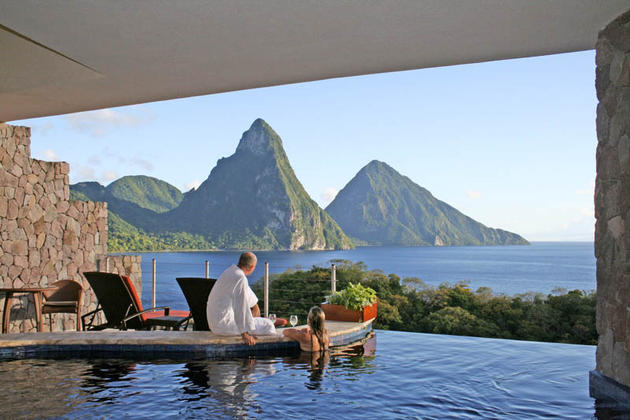 Wrapped around an infinity pool with a dazzling kaleidoscope of colors, the Jade Mountain Club caters exclusively to resident guests, celebrating James Beard Award winner, Chef Allen Susser's "Jade Cuisine." Hovering in space above the Jade Mountain Club is the Celestial Terrace, perfect for sunset cocktails or star-gazing.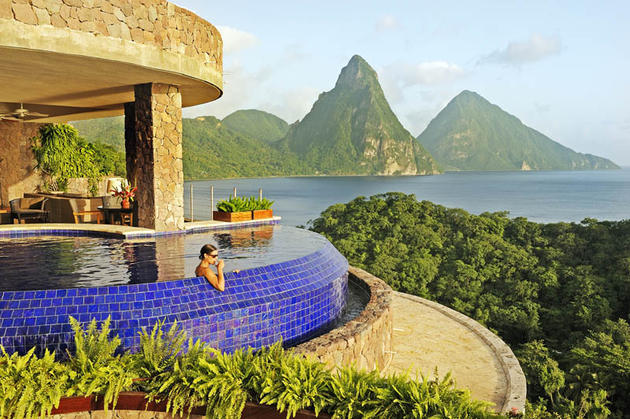 A wide range of spa services can be enjoyed in the privacy of the Jade Mountain sanctuaries or at Kai en Ciel, Jade Mountain's boutique spa and fitness studio.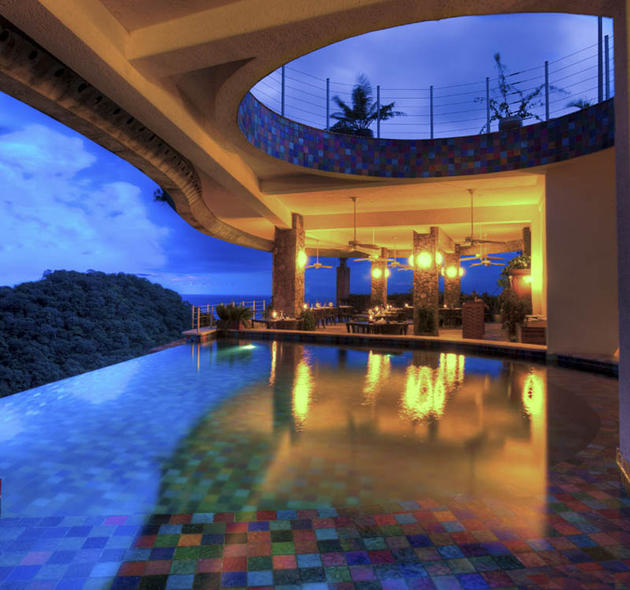 The Jade Mountain sanctuaries are deliberately techno-free; there are no telephones, radio or television. Internet access is available at reception for those who simply cannot let go of the outside world as the resort encourages you to! The resort major domos and a dedicated resort team ensure outstanding service around the clock.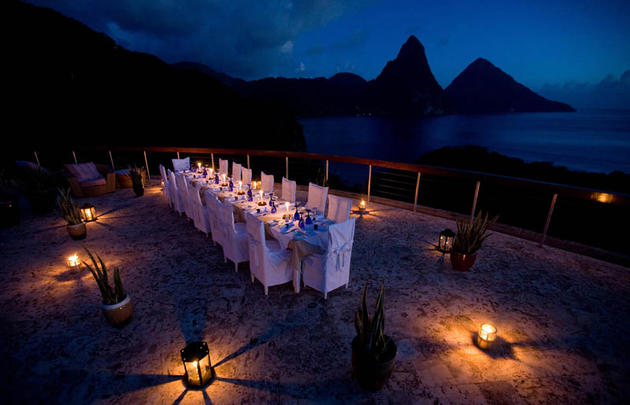 Enjoy the exclusivity and privacy of Jade Mountain with all of Anse Chastanet's restaurants, bars, boutiques, art gallery, spa, scuba, bike and watersports facilities as well as 2 soft sand beaches available to Jade Mountain guests at all times.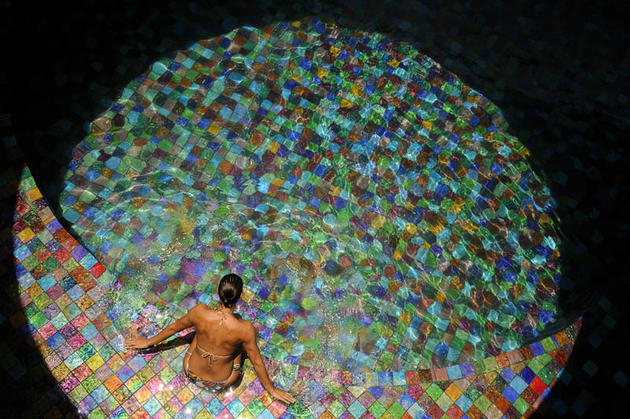 All sanctuaries feature 15ft high ceilings and have the 4th wall open to the views. All other aspects, layout and size vary from sanctuary to sanctuary. In addition to locally made fine tropical wood furniture an eclectic collection of furniture has been placed in the sanctuaries giving each one of them their own individualistic ambiance.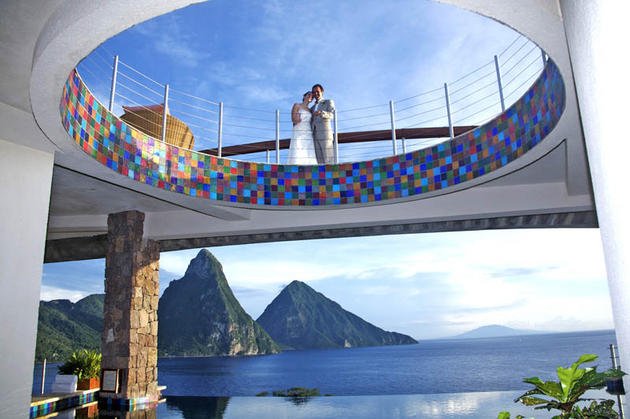 The living areas of the rooms are finished with more than 20 different species of tropical hardwood flooring and trims harvested in an environmentally correct way. JADE MOUNTAIN's technicians actually visited the Rain Forest of Guyana and personally chose which trees to be used. A multitude of hardwoods has been used including Purpleheart, Greenheart, Locust, Kabukali, Snakewood, Bloodwood, Etikburabali, Futukbali, Taurino, Mora and Cabbage Wood.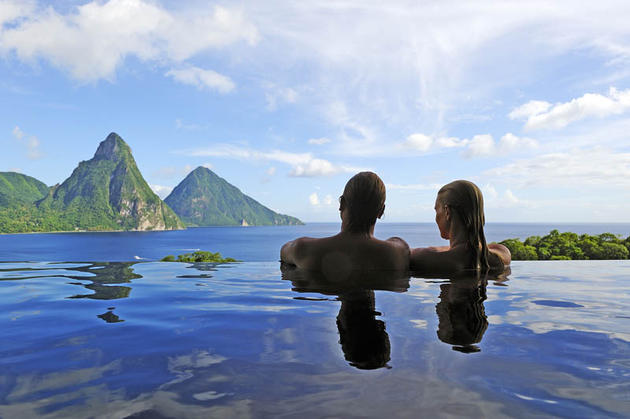 The interior walls are finished in a crushed blush toned coral plaster quarried in Barbados. The exterior is in massive rough concrete and imbued with locally quarried stone, with all the window openings framed with massive 3 x 18 inch tropical wood mullions and muntins which are in-filled with movable jalousie louvres. The flooring exposed to the weather is finished in quarried coral tile from neighboring islands.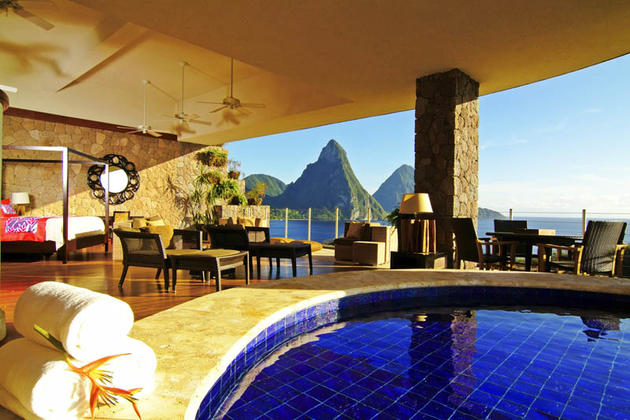 The water in Jade Mountain's infinity pools is purified by a highly sophisticated system, the primary mechanical filtration being through a zeolite sand filter and with the primary sterilization being ozone. Each pool receives individually filtered and sterilized water, and pool water cycles through the sterilization and filtration facilities approximately six times per day.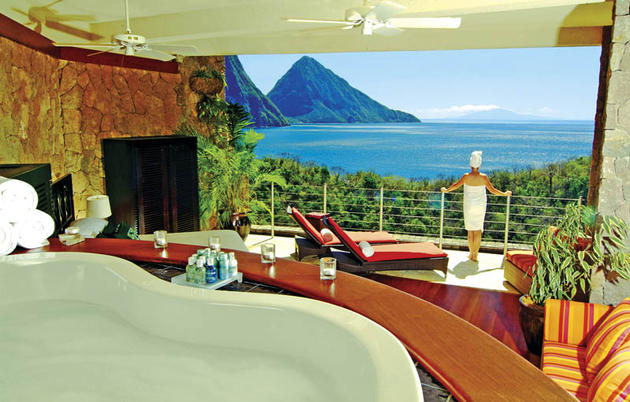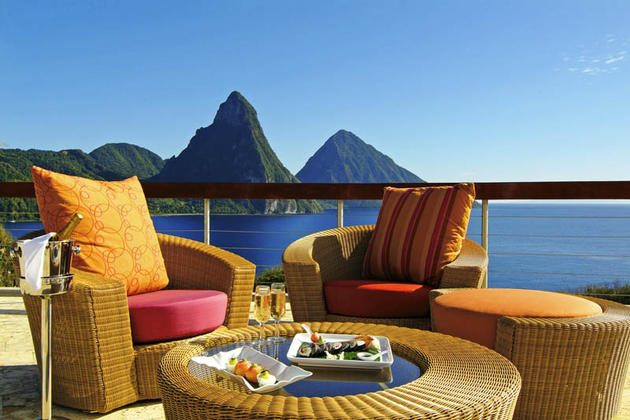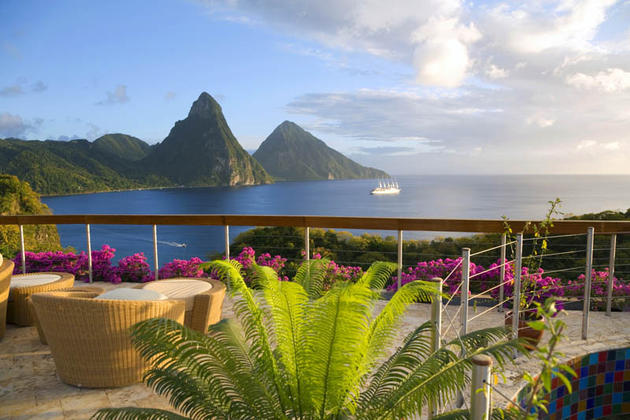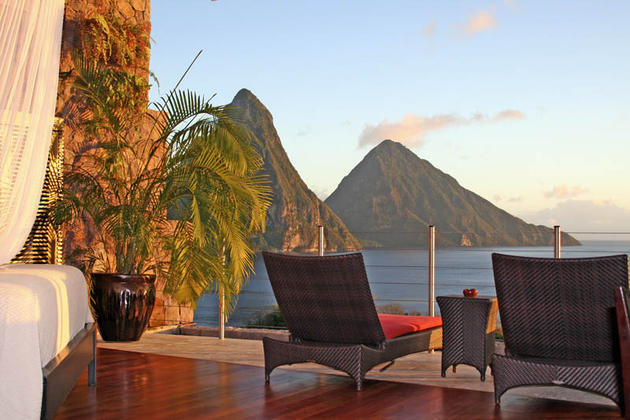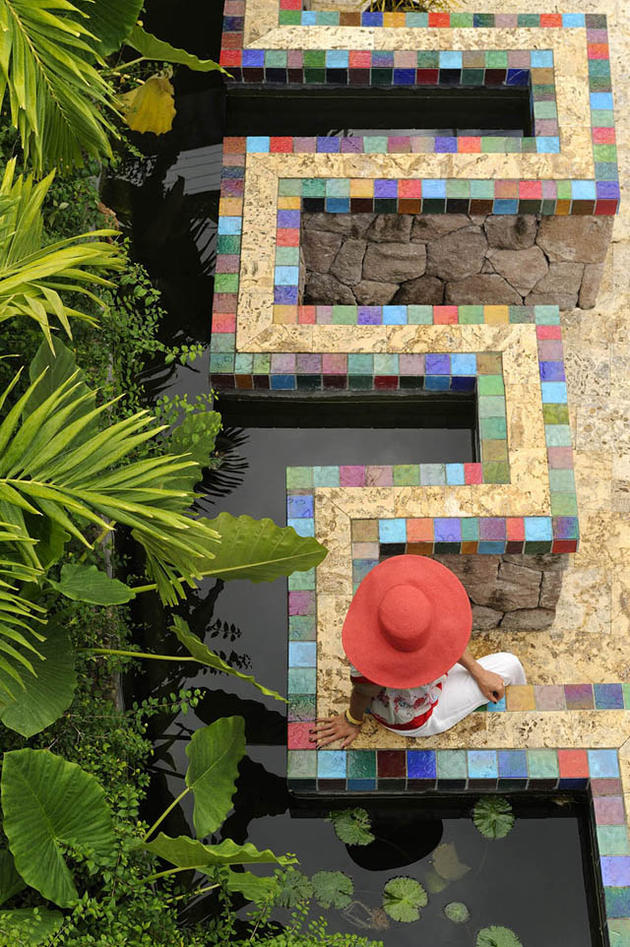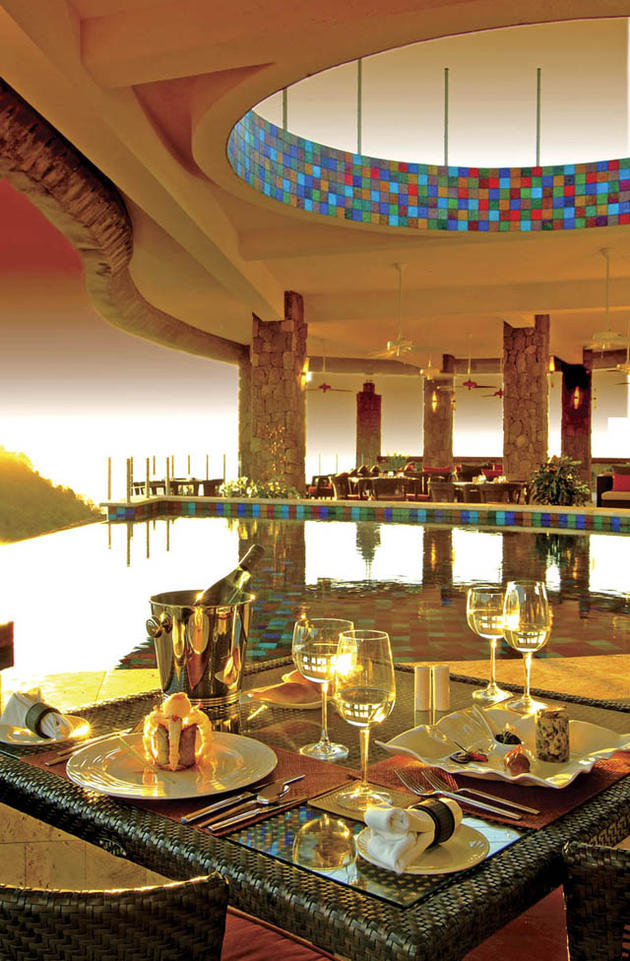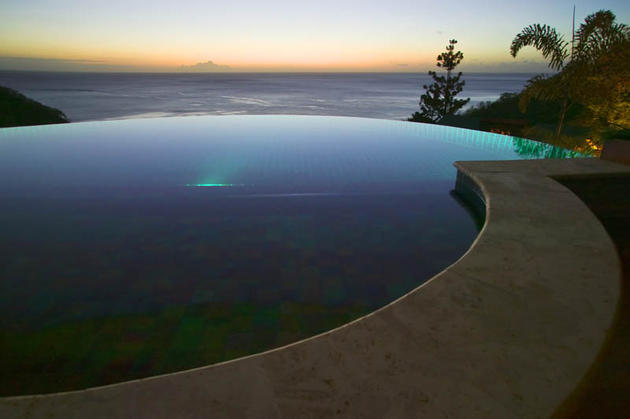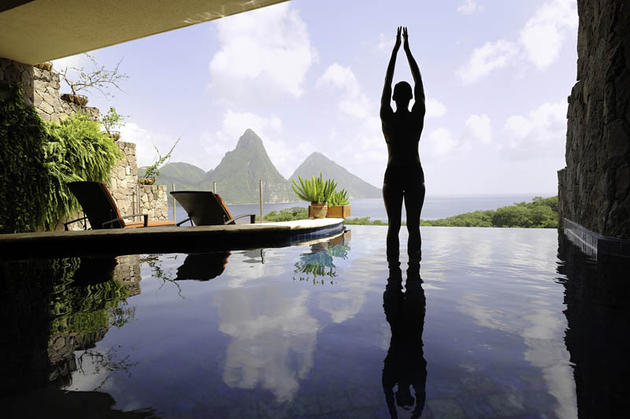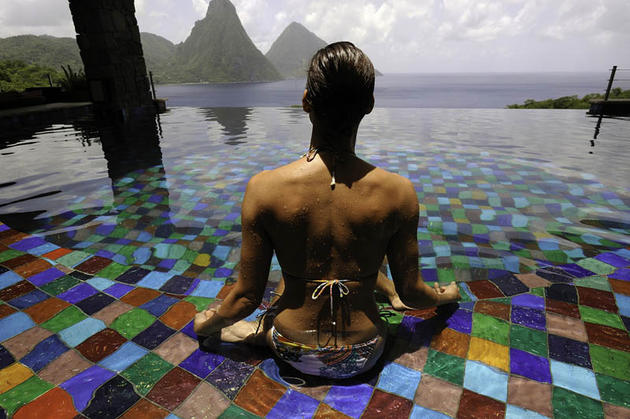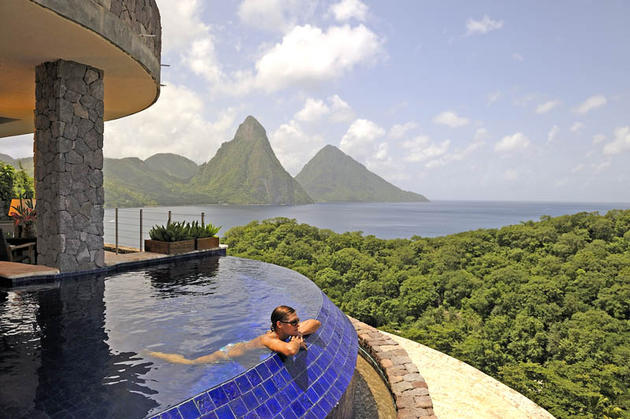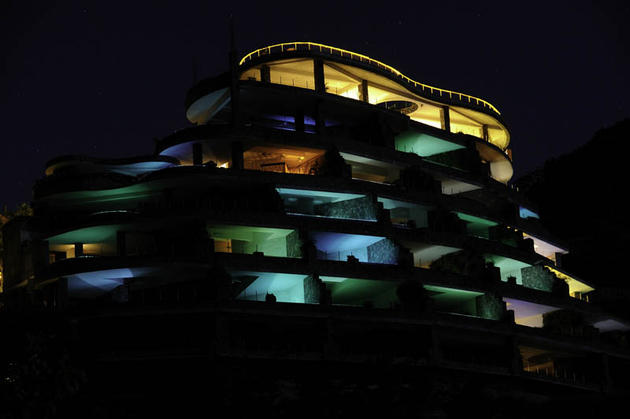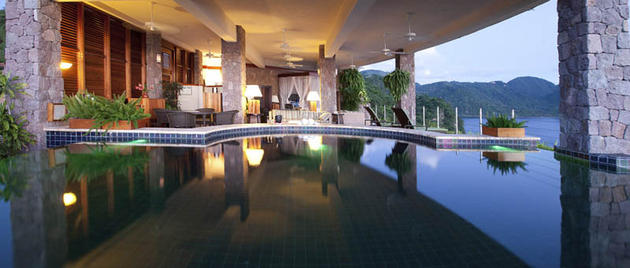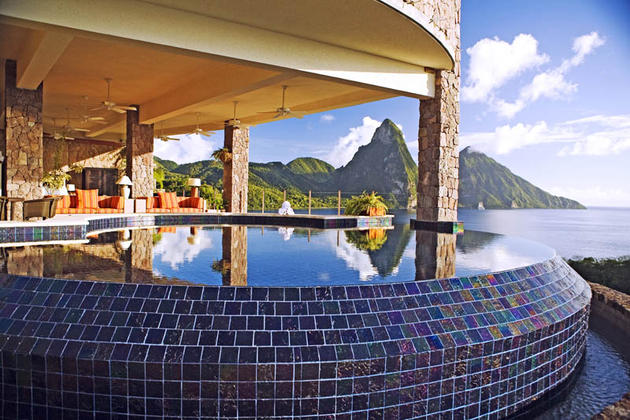 Like our Facebook page & receive daily updates on your wall:

---
You May Also Like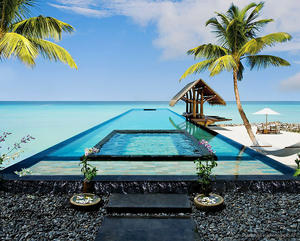 Feb 22 2012
Surrounded by the crystal blue wonders of the Indian Ocean, this superb all-villa resort offers an unrivaled level of style, choice and personalized exploration. Amazing resort!
---
Comments